Home

FRIGHTBYTES® CUSTOM GRAPHIC DESIGN SERVICES

It doesn't hurt to ask. Don't be afraid. I won't bite.....hard, it's more of a nibble.

If you are seeking fresh, high quality graphic images I can be of service. Simply drop me an E-mail with a brief description of what you would like. Any graphic from this gallery can be selected or new graphics can be created. Also your own images or photos may be suitable for creating a design.

You won't find any complicated pricing structure here. Each design is unique as is every budget. You will be pleasantly surprised to find that high quality custom graphics don't have to be drop dead expensive. I am a dedicated self-taught graphic artist and have been offering my graphics and services for over 15 years.

This is a small list of the graphic services currently offered:
- Flash Animation
- Interfaces
- Banners
- Book cover art
- Navigation buttons & bullets
- Unique borders
- Backgrounds

Frightbytes(R) was selected to create the cover Art for Jack LaFountain's new book HATCHLINGS.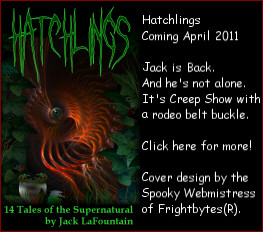 For more graphics visit my other site BANNERZ-R-US. This site offers traditional, non-horror related graphic elements.




"Let Me Design A Spooky World For You."

Email the Spooky Webmistress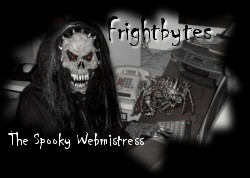 FRIGHTBYTES® is a federally registered trademark of Frightbytes.com.



Back to Frightbytes.net MAIN