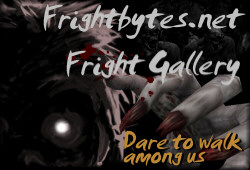 LINK EXCHANGE

Help keep the darkness bright! Frightbytes is a well established site, serving up horror since 1998. If you would like to participate in Frightbytes link exchange and have a Halloween/Horror website with interesting content send the Spooky Webmistress your url. Sites that link back to Frightbytes will have a permanent resting place. Sites that do not provide a reciprocal link will be exhumed and tossed to Space Dog. You may use one of my link graphics or a text link.

I am actively seeking new link partners. Send your url or suggest a site.

Enter the door below for Link Directory





LINKING GRAPHICS

Do your fiendish best to help keep the darkness bright by placing one of my link graphics at your site. Text links are welcome too. The URL to use is:

http://www.frightbytes.net
Serving up horror to the net BYTE by BYTE!

















Can't find what you really want online? Do you require personal graphic design to create custom graphics for your site? Do you need banners, buttons, interfaces, graphic sets, etc.? Inquire about my services.



Alrunes Graphic Design Studio
"Let Me Design A World For You"



Back to Frightbytes.net MAIN